This Amazing Train Will Let You Build And Topple Domino Courses With Ease!

Love toppling dominoes but hate the exhausting part of setting them up?

Instantly create the perfect domino course without having to set them up with the remarkable Domino Train Blocks Set!

Simply load the train with dominoes, turn it on, and it will start creating a random domino track for you to topple!

Now you can instantly skip the exhausting part of having to manually set the dominoes up one by one!

It's the ultimate domino maker for kids!

Create your own wacky tracks in an instant and satisfy your toppling needs with the amazing Domino Train Blocks Set!

Non-toxic And Safe For Kids Of All Ages!
Made with non-toxic and safe materials!

Product Specifications:

Material: BPA-free plastic

Dimensions: 10.63 x 5.75 x 3.07 inches

Weight: 1.72 pounds

Battery: 2x AA (Not Included)

Package Contents:

1x Domino Train

60pcs. Domino Pack

It's an amazing gift for your toppling toddler!

Build, create and destroy your wackiest domino courses and get non-stop toppling fun with the amazing Domino Train Blocks Set!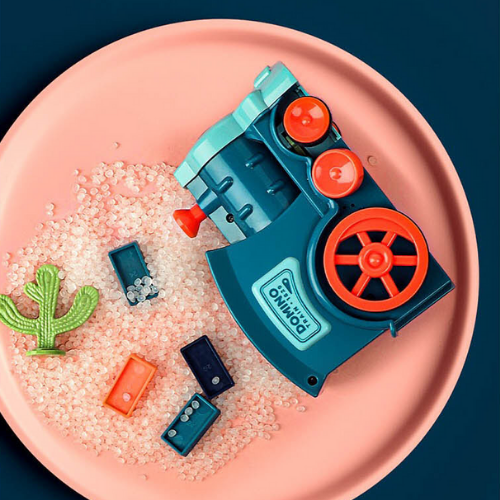 Automatically Swerves And Creates Random Tracks!
Automatically creates random domino tracks!

This battery-operated train is designed to load up all your dominoes and lay them uniformly on the floor!

Simply switch the device on and it will instantly swerve and place your dominoes randomly every time!

It's made with premium BPA-free ABS making it durable, non-toxic, and safe for kids of all ages!

It's an amazing toy for kids aged 3 and up!

Build your own wacky domino courses at home and topple them to your heart's content with the amazing Domino Train Blocks Set now!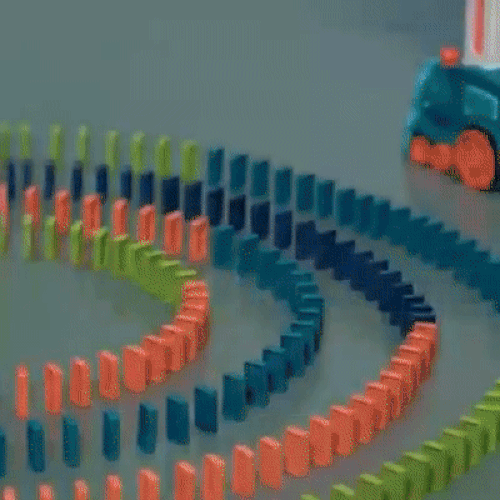 3 Buying Options, The More You Buy, The More You Save!
BEST VALUE! (2nd Option Below!)
Holiday Shipping Guarantee

All orders placed today will be delivered by December 24. Average shipping times are 3 weeks during the holiday season.


How Long Does It Take To Ship?

We work hard with sellers around the world to get you great products at unbeatable prices. Shipping is estimated to take 14-21 Days.

What's inside a Domino Train Blocks Set Pack?

Each pack contains one (1) Domino Train and 60psc Domino Pack.

Material: ABS + Plastic

Dominoes; 60pcs
Battery: 2x AA (Not Included)


What Is Our Return Policy?

We want you to be completely satisfied with your order. You may return all products within 30 days of delivery.


You can initiate a return by using the contact us page to start a return ticket. Please include your order number and the reason for the return. We will either reship a new one, apply a credit or a refund to you. We do our best to respond to all requests within 24 hours upon receiving.


At this time, Trending Deals does not refund, reimburse, cover, or otherwise be responsible for any fees not paid to Trending Deals. This includes any customs taxes or VAT as well as any return shipping costs you may incur in the return process.